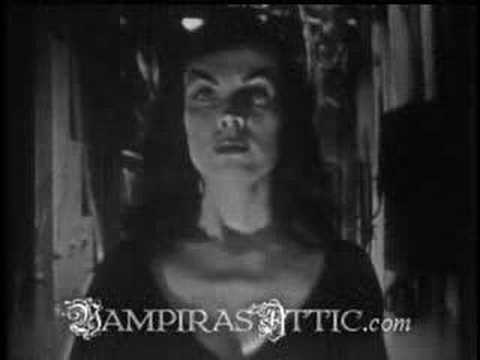 The first female horror host, Vampira, was the persona of Maila Nurmi. The character was created in 1954 when Maila was a horror host at KABC-TV in Los Angeles, which after a two year run, moved over to KHJ-TV. The idea for For Vampira was born when Maila attended choreographer Lester Horton's annual Bal Caribe Masquerade in a costume inspired by a character in the cartoons of Charles Addams. Her pale white skin and tight black dress caught the attention of television producer Hunt Stromberg, Jr. who wanted to hire her to host horror movies. Unfortuntely, Stromberg had no idea how to contact her, but luckily he finally got her phone number from Rudi Gernreich. As for the Vampira name itself, that was thought up by Nurmi's husband, Dean Riesner.
The beloved lady really hit the big time when she joined the legendary Bela Lugosi in the classic cult film Planet 9 from Outer Space (1956). After the successful run of her TV show she went on to make even more movies.
In the 1980s Maila sued Cassandra Peterson for stealing her Vampira persona to create Elvira, but the suit didn't result in anything.
On January 10, 2008, Nurmi died at the age of 85. She was buried in the Griffith Lawn section of the Hollywood Forever Cemetery.