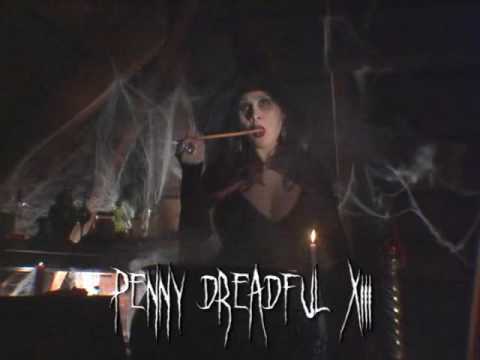 Penny Dreadful XIII is a beloved horror host based in New England. She is portrayed by actress and comedian Danielle Gelehrter.
Gelehrter created the persona of Penny Dreadful the witch to bring back horror hosts on Boston-area television. The show, Penny Dreadful's Shilling Shockers, premiered on local cable in January 2006. The show first aired on cable access television in Providence, Rhode Island, Boston, Massachusetts, New Bedford, Massachusetts and Salem, Massachusetts. It eventually extended to over 150 cities and towns in New England.
Penny Dreadful is described on the program's website as "an intermingling of light and dark elements. She can be very silly and sinister by turns, with a withering wit and a dramatic gaze." Penny is known for using the exclamation, "hex-cellent!" and likes to call her viewers "Dreary Ones."
But the show doesn't just feature her – there's also Garou the werewolf henchman and husband of Penny Dreadful (played by Magoo Gelehrter). Then there's Dr. Manfred Von Bulow is a semi-retired German vampire hunter (played by Ivan Bernier). Finally we have Luna, the crazy but highly intelligent, woman released from the abandoned Danvers State Hospital (played by Rebecca Paiva).
The Rondo Hatton Classic Horror Awards presented Penny Dreadful with the award for "Favorite Horror Host" of 2007. She was the very fist horror host to receive the award in this category.